Best beaches in majorca for families
If you're planning a trip to Mallorca, make sure to visit the southern region of the island where you will find some of the most stunning beaches. With turquoise waters and white sand, these beaches offer the perfect Mediterranean escape.
Welcome to our guide to some of the best beaches in the southwest, south and southeast of Mallorca!
Meet Hollie our AI assistant :)
Mallorca, also known as Majorca, is one of the Balearic Islands located in the Mediterranean Sea. Known for its stunning beaches and crystal clear waters, it is the perfect destination for a family vacation. But with so many beaches to choose from, it can be overwhelming deciding which ones to visit. Therefore, we have compiled a list of some of the best beaches on the island that you and your family will not want to miss.
CALA LLOMBARDS
This hidden gem is located near the town of Santanyi and is known for its crystal clear turquoise waters and soft white sand. It is the perfect place for swimming, snorkeling and sunbathing. The beach is also surrounded by beautiful cliffs and pine trees, which provide a stunning backdrop for your vacation photos.
CALA SA NAU
This small beach is located in the charming town of Santanyi and is known for its transparent waters and fine white sand. It is the perfect place for a relaxing day in the sun and is also ideal for swimming and snorkeling. The beach is also surrounded by beautiful pine trees, which provide shade and natural beauty.
Now let's head south, here you will find beaches that have nothing to envy of the Caribbean!!!
ES TRENC
Es Trenc is one of the most famous beaches in Mallorca, known for its unspoiled beauty and natural environment. With over 2 kilometers of golden sand and crystal-clear waters, it's easy to see why so many visitors flock to this location each summer.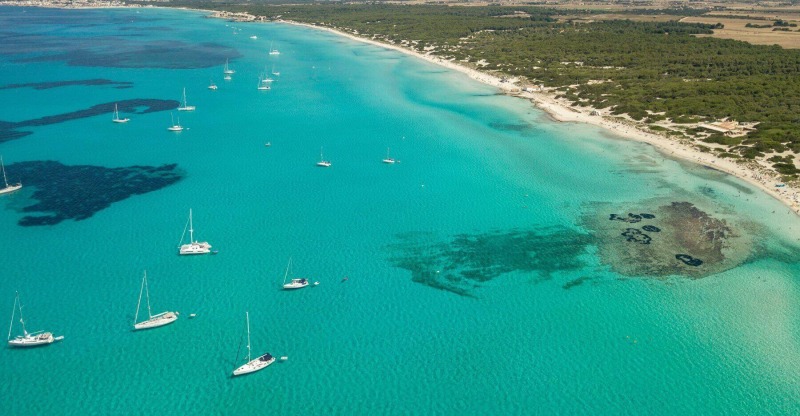 Es Trenc beach, Majorca
Es Trenc is easily accessible by car, with ample parking available. However, be prepared for a bit of a walk from the parking area to the beach itself. Despite its popularity, Es Trenc never feels too crowded, thanks to its expansive sand and serene waters.
In terms of amenities, Es Trenc is a bit more developed than some of the other beaches on this list. You'll find several restaurants and bars in the area, as well as beach umbrellas and loungers for rent. Whether you're looking for a lively day at the beach or a peaceful escape, Es Trenc is a great option.
ES CARAGOL
If you're looking for a more secluded beach experience, Es Caragol is definitely worth checking out. This quiet and authentic Mediterranean beach is located further away from the tourist crowds and can only be reached by foot.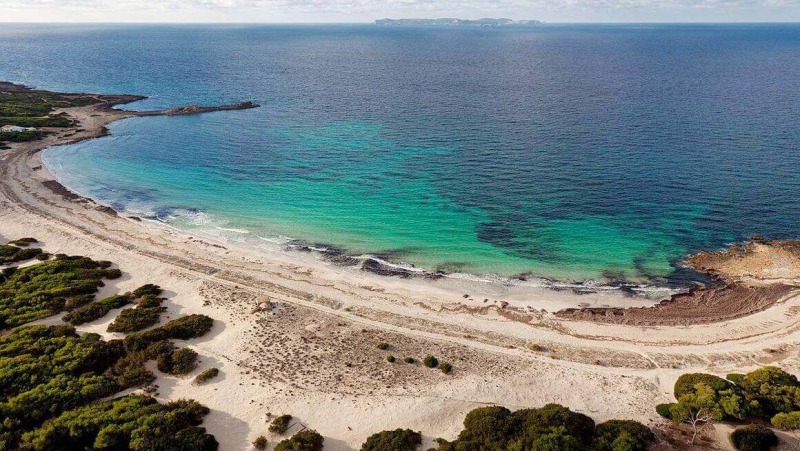 Es Caragolbeach, Mallorca
Es Caragol is a mixture of sand and rocks, which adds to its charm and makes you feel like you're lost in nature. The beach is known for its uncrowded atmosphere and nudism is accepted. So, if you're looking for a peaceful escape, Es Caragol is a great option.
ES CARBO
Es Carbó is a hidden gem that is sure to leave you feeling refreshed and rejuvenated. Unlike some of the other beaches on this list, Es Carbó cannot be reached by car. You'll need to park in Colonia de Sant Jordi and walk for about 30 minutes or arrive by boat.
This long and secluded beach is a perfect escape from the crowded tourist areas. You'll be surrounded by the natural beauty of the Mediterranean, with nothing but the sound of the waves to keep you company. There are no amenities at Es Carbó, but this only adds to its natural charm. So, grab your beach towel and some sunscreen, and spend the day soaking up the sun at Es Carbó.
The south of Mallorca is home to some of the island's most beautiful and diverse beaches. Whether you're looking for a lively day at the beach, a peaceful escape, or a bit of both, you're sure to find what you're looking for in this stunning region. So, what are you waiting for? Grab your beach towel and start exploring!"
We continue because there is much more!!!
SES COVETES
Located just a few kilometers from the famous Es Trenc beach, beach de Ses Covetes is a hidden gem in the south of Mallorca. This secluded beach is surrounded by lush vegetation, making it the perfect family getaway. The golden sand and turquoise waters are just as stunning as those at Es Trenc, and the beach is often much quieter. With plenty of space to spread out and enjoy the Mediterranean sun, beach Ses Covetes is a must-visit for those seeking a peaceful beach experience.
SA RAPITA
If you're looking for a lively beach scene, look no further than beach de Sa Rapita. This long and wide sandy beach is the perfect spot for a day of fun in the sun. The beach is lined with restaurants, bars and beach clubs, so there's no shortage of options for food and drinks. For those looking to be active, there are water sports available, including windsurfing, kitesurfing and paddleboarding. With its lively atmosphere and stunning scenery, beach Sa Rápita is the perfect choice for a day of sun, sand and fun.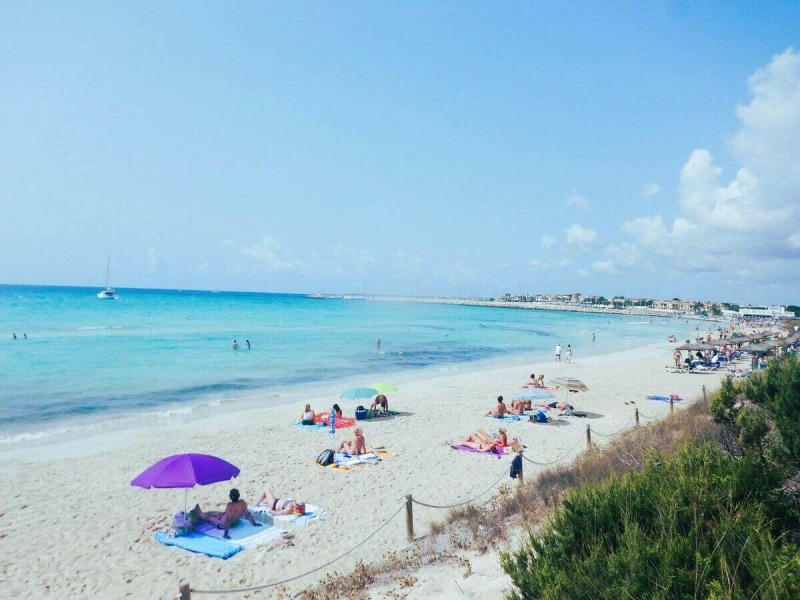 Sa Rapita beach, Majorca
Whether you're looking to spend a relaxing day at the beach, enjoy cultural activities, dine at local restaurants, or just take a leisurely stroll, everything you need is right at your fingertips.
Now it's time for the sunny southwest corner of Mallorca, where most of our beautiful villas are located. With its charming elegance and privileged location, you will feel like royalty as you explore all that this beautiful island has to offer. 
SA GRAN & SA PETITA
San Telmo, this charming coastal village boasts a picturesque fishing port and two stunning beaches, 'Sa Gran' with its long stretch of sand and 'Sa Petita' with its pebble shore. Both beaches are lovely, blue flag certified and easily accessible.
Here you can spend an idyllic day, you will find a rich gastronomic variety.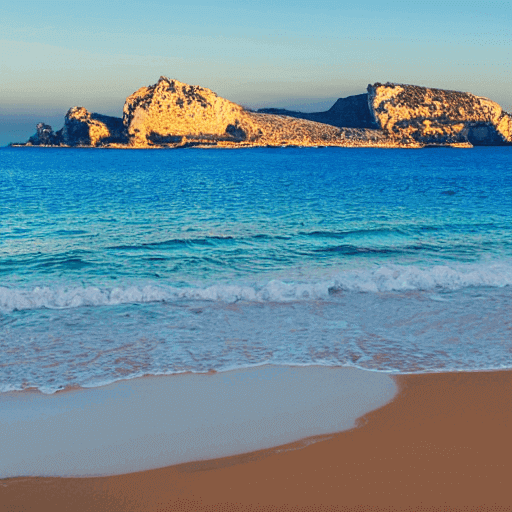 Sa Grand beach, Sant Telmo, Majorca (Generated by AI)
CAMP DE MAR
With its unforgettable wooden bridge, Camp de Mar is a popular beach with locals and families. The nearby 'La Illeta' is a rocky islet with a restaurant over the sea and a beach with crystal clear waters, making it a must-see destination.
 For those who prefer rocks to sand, Platja de Ses Dones is a nearby breakwater that provides an intimate ocean experience without the hassle of sand.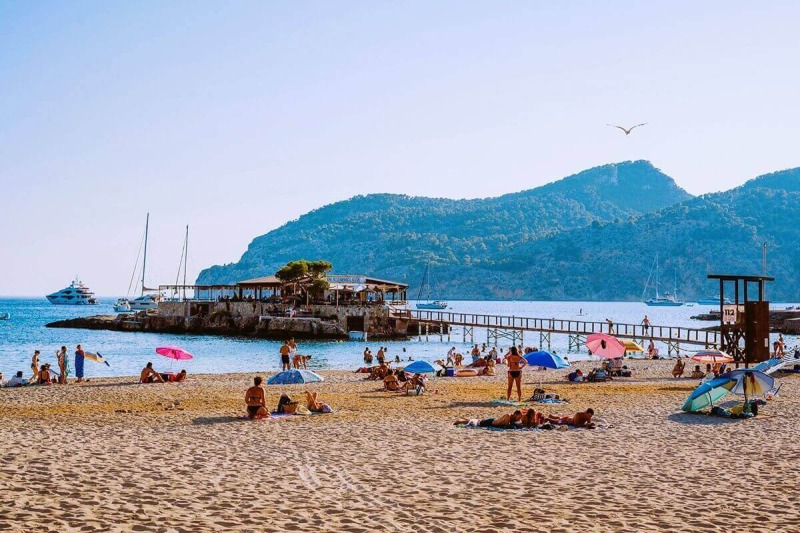 Camp de Mar beach, Majorca
EL MAGO 
This tiny beach surrounded by rocks is a popular choice with nudists and locals alike. Despite its small size, it offers all types of swimmers a unique and unforgettable experience.
CALA FORNELLS
Located in Paguera, Cala Fornells is a popular beach that offers the perfect combination of sand and rock for all bathers. With crystal clear waters, a family atmosphere and a range of services, it is an excellent option for those looking for a more relaxed vacation experience.
And for those seeking seclusion, Caló des Monjo is only a 15-minute walk away and is considered one of the most beautiful places on the island.
PAGUERA BEACH
Is a popular tourist destination in the southwest of Mallorca, Spain. It has fine golden sand, crystal clear waters and a lively atmosphere with many restaurants and shops nearby. Paguera has three main beaches, Playa Palmira, Playa Tora and Playa Romana, each offering a variety of water sports activities.
SANTA PONSA BEACH
Is another impressive and extensive urban beach with white sand. It is a popular place for water sports such as windsurfing and kitesurfing.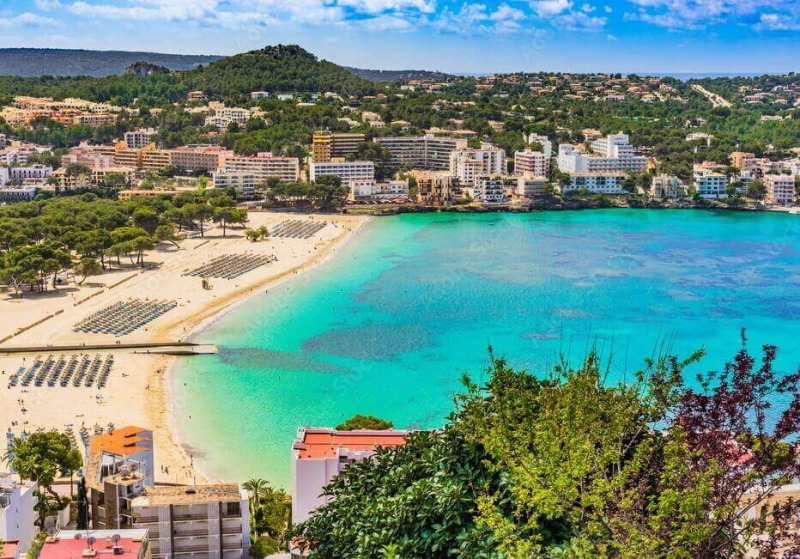 Santa Ponsa beach, Majorca
Check out these amazing villas located close to the southwest beaches of Majorca Villas in Santa Ponsa Villas in Port Adriano - El Toro Villas in Port Andratx Or you can check all the villas close to sea Villas Near The Sea