Golf Courses to play in the Southwest of Mallorca
The southwest of Mallorca is a paradise for golfers
The southwest of Majorca is a golfer's paradise with some of the best courses in Spain. Whether you are a beginner or an experienced golfer, there is a course that will suit your skill level and provide a challenging and enjoyable round of golf. So, pack your clubs and head to the southwest of Majorca for a golfing experience you won't forget!
 Golf enthusiasts looking to enjoy a round of golf in a beautiful location should consider the southwest of Mallorca. This region boasts some of the best golf courses in Spain, with stunning views of the Mediterranean Sea and the Tramuntana Mountains. In this blog post, we will explore some of the best golf courses in the southwest of Mallorca.
GOLF DE ANDRATX
Situated just 30 km from Palma, this golf course is located in a beautiful coastal area of Camp de Mar and boasts a privileged location and sophisticated architecture that distinguishes it from other courses on the island.
Although the whole course is worth playing, and its lakes are worth challenging, the most outstanding hole is undoubtedly the 6th, known as the "Green Monster". This par 5 is the longest in Spain, at a whopping 609 metres from tee to hole, and is a real challenge for even the most skilled golfers.
But Golf de Andratx offers much more than just a great round of golf. Throughout the course, you will enjoy excellent service and amenities, including the Halfway House bar, where you can enjoy delicious tapas and Mallorcan drinks. And once you've finished the 18th hole, be sure to head to the legendary Italian restaurant CAMPINO for an unforgettable meal.
If you need new golf equipment or clothing, the fully stocked Pro-Shop offers internationally recognised brands.
But that's not all. Golf de Andratx also has a first-class driving range, where you can perfect your game and receive valuable advice from the professionals who are always available for individual courses.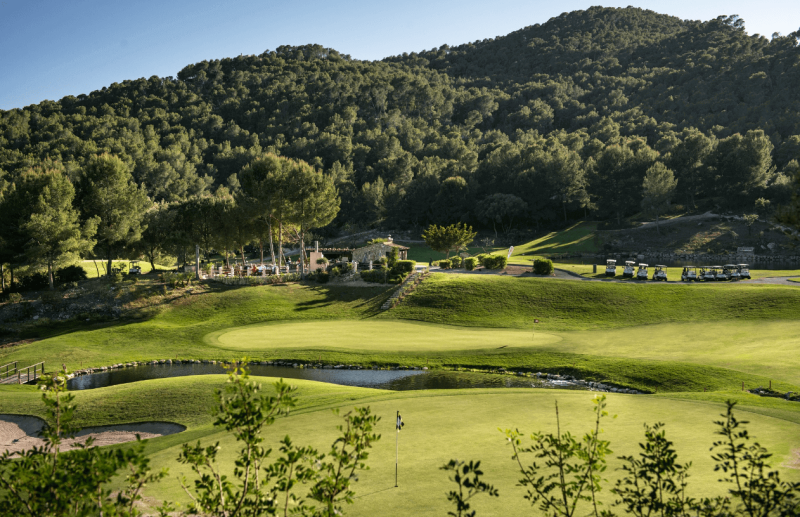 Golf Andratx, Majorca
In short, Golf de Andratx is a golf course like no other. Whether you are an avid golfer or simply want to try something new on your trip to Mallorca, be sure to make this course a priority. You will not be disappointed.
Some villas close to Golf de Andratx
GOLF SANTA PONSA I
If you are a golf enthusiast, you will surely be interested in one of the most emblematic golf courses in Europe: Golf Santa Ponsa I. Designed by the Italian architect Folco Nardi in 1977, this course has an 18-hole course (Par 72) and is located in the town of Santa Ponsa, on the island of Mallorca.
One of the highlights of Golf Santa Ponsa I is the 10th hole, which at 590 metres is one of the longest in Europe. It is a par 5 that requires great precision and strategy on the part of the player in order to successfully overcome it. In addition, the course has other equally interesting and challenging holes, surrounded by water, which makes it a real challenge for the most experienced golfers.
Golf Santa Ponsa I has hosted the European Tour on six occasions, which speaks of the quality and prestige of this course. In these editions, some of the most outstanding players in the world of golf have participated, such as Severiano Ballesteros, Bernhard Langer, José María Olazábal or Ian Woosnam, among others.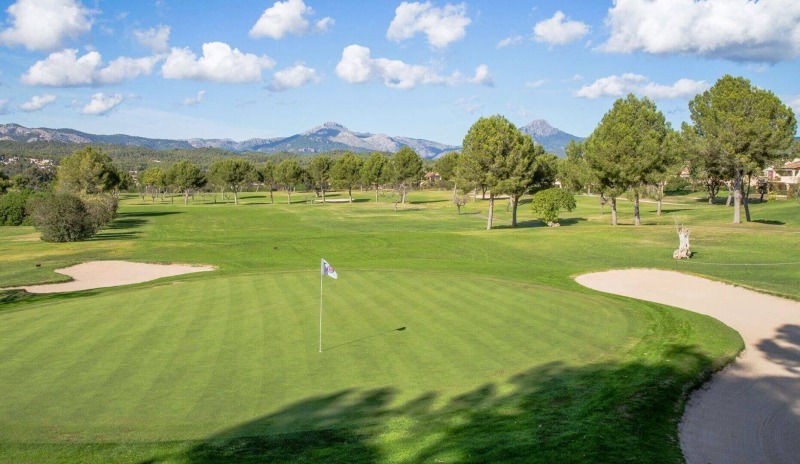 Golf Santa Ponsa, Majorca
In addition to Golf Santa Ponsa I, the club has two other courses exclusively for members: Golf Santa Ponsa II and Golf Santa Ponsa II. These courses complement the club's sporting offer and offer members the possibility of enjoying golf in different environments and with different characteristics.
In short, Golf Santa Ponsa I is one of the most outstanding golf courses in Europe, with a spectacular design and holes that are a challenge for the most demanding players.
T GOLF CALVIA
The perfect choice for you. This 18-hole course boasts a breathtaking view of the Sierra de Tramuntana mountains, making it one of the most beautiful courses in Mallorca.
In 2018, after 40 years in operation, T Golf & Country Club, now T Golf Calvia, was completely refurbished with the aim of optimising the experience for all golfers who play here. In addition to the great views, this course stands out for the beauty of its flora and the presence of 15 lakes that give it a touch of distinction.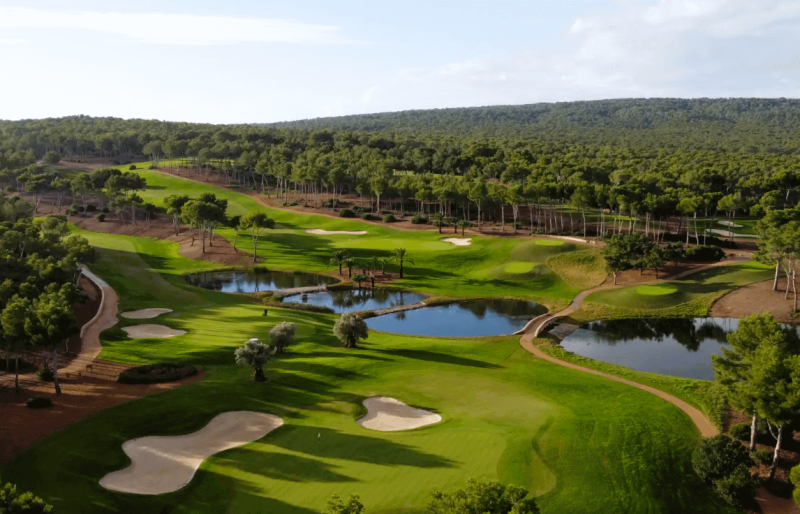 T Golf Calvia, Majorica
But not everything is beauty in T Golf Calvia, this course has become a great challenge for all golfers due to its many obstacles. If you are looking for a course that will test your skills and give you an unforgettable experience, T Golf Calvia is definitely the perfect choice for you.
Some villas close to T Golf Calvia
REAL GOLF DE BENDINAT
A course designed by Martin Hawtree (1986) in an extensive wooded valley, has an 18-hole course (Par 70) where you can enjoy the perfect fusion of beauty and nature, with views of the bay of Palma, Cabrera and Bendinat Castle.
It is known for being one of the quietest in the region, which makes it an ideal place to relax and enjoy a round of golf.
Real Golf Bendinat is a golf course designed to satisfy golfers of all levels, with water hazards and varied fairways that challenge both experienced and novice players. The course also has a network of buggy paths, allowing golfers to move comfortably from hole to hole.
One of the most outstanding amenities at Real Golf Bendinat is its clubhouse, which has changing rooms and showers for men and women. In addition, there is also a bar where golfers can relax after a round of golf and enjoy a refreshing drink and a light meal.
For those looking to improve their game, Real Golf Bendinat has a driving range where they can practice their swings and improve their accuracy. There is also a pro shop where golfers can find everything they need to play, from clubs and balls to clothing and accessories.
For those who don't have their own golf equipment, Real Golf Bendinat offers rental services for clubs, trollies and buggies, meaning golfers can get to the course without having to worry about bringing their own equipment.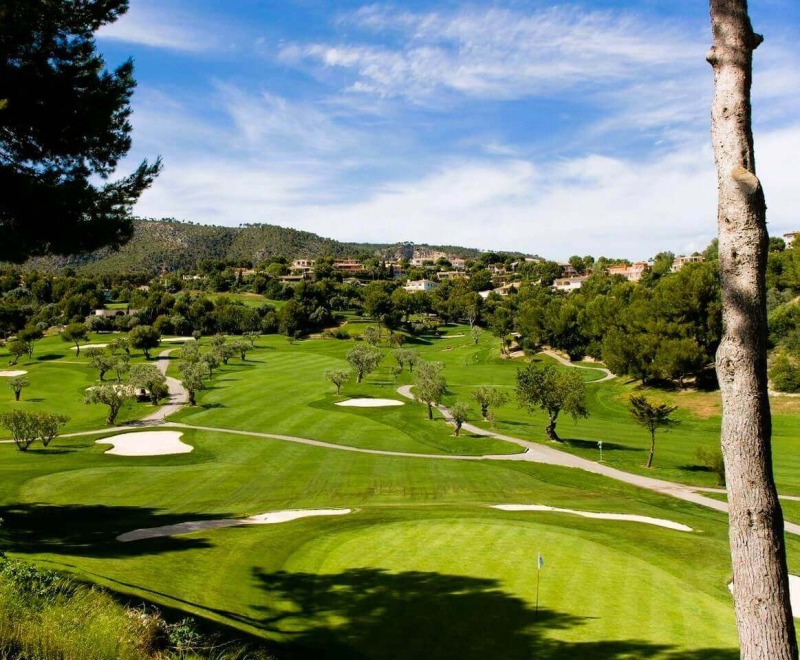 Real Golf Bendinat, Majorica
In short, if you are looking for a quiet and challenging golf course on the beautiful island of Mallorca, Real Golf Bendinat is an excellent choice. With its network of buggy paths, driving range, clubhouse, pro shop and equipment rental services, this golf course offers everything you need for an unforgettable golfing experience. Come and play at Real Golf Bendinat!
GOLF SON QUINT
Set in a beautiful green terrain with breathtaking views of the bay, this 18-hole golf course is ideal for beginners and professionals alike.
For beginners, Golf Son Quint has practice areas and a team of qualified instructors who will be happy to help you improve your technique. If you are a more experienced player, you will love the challenge of the more demanding parts of the course.
In addition, Golf Son Quint has all the amenities you could possibly need. There is a well-stocked pro-shop where you can find all the equipment you need for your game, as well as a restaurant where you can enjoy a meal or a drink after your game.
GOLF SON VIDA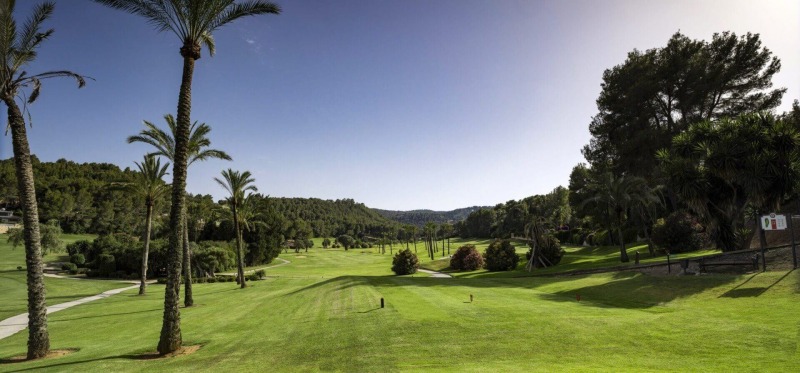 ARABELLA GOLF-Son Muntaner, Son Vida, Son Quint, Majorica
Welcome to the oldest golf course in Mallorca! This place is a real gem for those who wish to challenge themselves while enjoying the history and tradition of the sport. With a hole by hole design that has remained true to its original style, this course has hosted two "Open de Baleares" tournaments on the European Tour.
What makes this course so special? In addition to its impressive history, the course boasts a large lake that offers stunning views from the terrace, a perfect place to relax after a round of golf.
In short, if you're looking for an authentic golfing experience, Mallorca's oldest golf course is a must-visit - don't miss the opportunity to play in a place steeped in history and tradition while enjoying the stunning views of the lake!
GOLF SON MUNTANER 
 A course that has been chosen as the venue for the prestigious Mallorca Golf Open 2022, one of the most important events on the European golf circuit.
With its extraordinary 18-hole design (par 72), its challenging greens and its meticulous maintenance, Son Muntaner Golf has established itself as one of the most impressive golf courses in the Balearic Islands...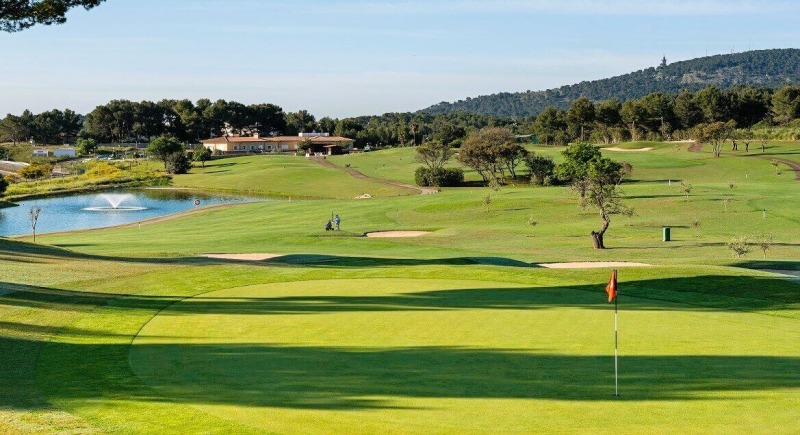 ARABELLA GOLF-Son Muntaner, Son Vida, Son Quint, Majorica
But Son Muntaner Golf is not just another golf course. It is a place that transports you to a world of beauty, elegance and sophistication. A place where every detail has been thought out to guarantee excellence and quality. A place that will make you feel at home and where you will always find the best service, the best attention and the best facilities.
Check out these amazing villas located close to the southwest golf courses in Majorca Villas in Santa Ponsa Villas in Port Adriano - El Toro Villas in Port Andratx